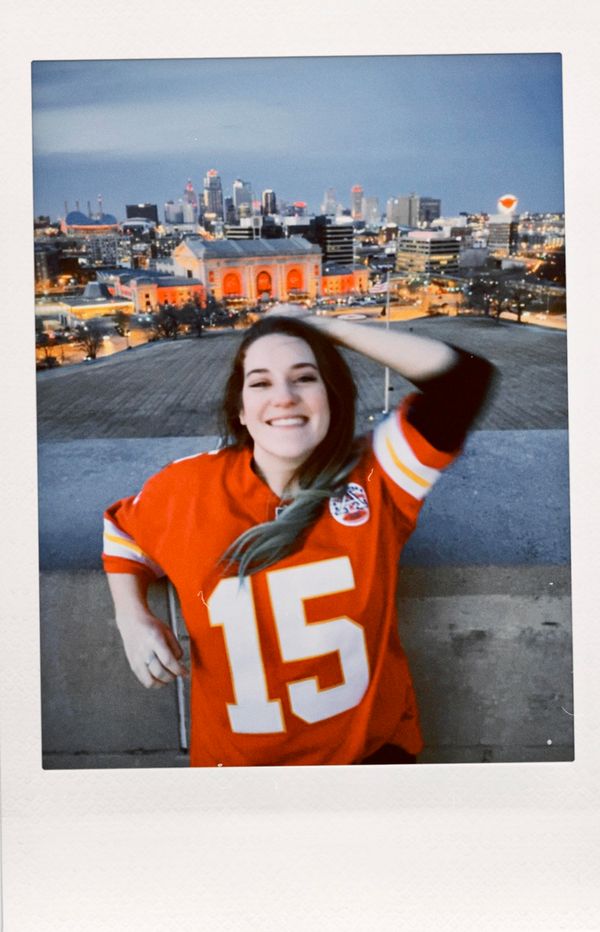 My hometown football team is going to the Super Bowl! Again! Which is so crazy because for most of my life, none of the Kansas City sports teams were good! After we won the Super Bowl in 2020, Donald Trump congratulated the "great state of Kansas" because he, like most people, didn't even know where Kansas City was located. 
Now that I'm living in Michigan, people often ask me where I'm from. My quick answer: grew up in KC, lived in Chicago for 10 years, moved back to KC for 2 years, and now I'm in Michigan. 
Long answer: I was raised in Richmond/Kansas City, Missouri, but I grew into the person who I am today in Batavia/Chicago, Illinois. Which is why Chicago is still so important to me. I also met my partner in Chicago, so we share that together. 
But Kansas City is where my family is. Currently, yes my parents, my two brothers, and my dog. But also my cousins, my aunts, my uncles, my Grandad. My late family member's graves are in Kansas City. 
I've spent every single Christmas in Kansas City. I remember the 10 hour drive from Batavia to KC every December and how the snowy Illinois highways outside the car window would turn to the Missouri brown, dull grass. But the sun would be out, and I'd be excited that I could enjoy the outdoors with my cousins, even in the winter. 
For someone that changes their life pretty often, I'm still a sucker for tradition. And that's what Kansas City is to me: Tradition. 
I've been best friends with Maddie, (who I met at New Mark Middle School in KC North), for 15 years. During my time in Chicago, she would come visit me during the summer and I'd always see her at Christmastime in KC. That tradition has changed a bit over the years with us growing up. But it's still a tradition that I see her twice a year, at least once in KC. That's what Kansas City is to me: Tradition. 
Kansas City is the feeling of home. The feeling of rest and relief. 
Family. Lifelong Friendships. 
No judgement. Only love. 
Where I can step away from any stress or heartache and simply - just be. 
I haven't always been a big football fan. Honestly, I've only really cared since the Chiefs started being good! So call me a bandwagon fan, I don't care! But as much as I love our team and its players, I get the most giddy when I see the Kansas City skyline on the TV here in Michigan. The Western Auto sign, Union Station dressed in Chiefs Red, even the T-Mobile Center (but of course, I still call it The Sprint Center). 
Because seeing those familiar places on TV, while I'm at work or with my Michigan friends, I'm immediately transported back into the car, driving home to Christmas in KC, excited for a week with my family. I'm immediately transported back to my childhood. Familiarity. Tradition. 
And in a way, that's what the Kansas City Chiefs represent too: Tradition. The first ever Super Bowl was Chiefs v Packers in 1967. And the Chiefs lost. Though, I hope that's not the tradition... LOL
I guess what I'm trying to say is that Missouri and Kansas are flyover states. The President of the United States didn't even know where the Chiefs were from. If I ever become famous, many people might not know where I'm from, either. The Chiefs being in the Super Bowl gives the rest of the country and the rest of the world a little glimpse into my important hometown. It may not feel important to others. To others, Kansas City may only be represented by Patrick Mahomes in the State Farm commercials. 
But to me, Kansas City represents so much more.